Creatures And Kids, Inc.(CKI) – Living the Dream With Therapeutic Animal's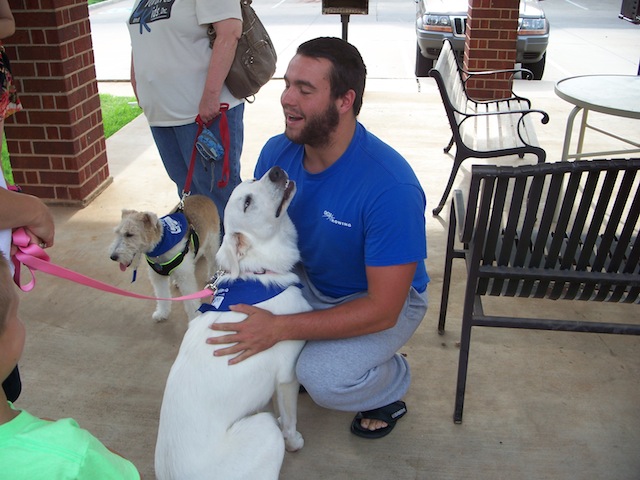 Creatures and Kids comes together with PetSmart Gives Back, to accept their kind donation; and know with their help, CKI teams will be able to reach many others.
PetSmart will provide this charitable donation through their new initiative, PetSmart Gives Back. This initiative focuses on giving back to local communities throughout the nation in support of organizations and programs that enrich people's lives through the power of pets and foster diversity and inclusion.
Please join us, along with PetSmart Edmond, OK as we recognize the volunteers' of Creatures and Kids, and thank them for sharing their animals with our community. CKI-TAI teams, (animals and people) will be present to accept this community thanks.
TAI Teams will share information about Therapy Animal Certification and facilities they visit. Stop by our table and put your name into the DOG BOWL, to receive some free personalized information about the training of therapy animals, and requirements for certification. 
Edmond PetSmart
1921 S. Broadway, Edmond, OK
Saturday, November 9th between 11 am – 12 pm
Creatures And Kids, Inc. – Living the Dream With Therapeutic Animals
A life-long vision is finally coming true for Penny Nichols. Nichols and her father always believed, with the right approach, they could make a difference in the lives of children. Although her father has passed away, the vision has become a reality through the efforts of Nichols and many other hard working volunteers. "I thank all of these people for their time and energy to create Creatures and Kids, Inc.," said Nichols
Creatures and Kids, Inc, a non-profit organization, and was developed by people with a variety of backgrounds and professions. They share the common belief that it is possible to re-direct young people toward positive character qualities through controlled interactions with animals.
While Creatures and Kids' main focus is youth, they find themselves working with all ages.  "Our future- plan includes continuing our volunteering with schools, medical facilities, libraries and those that can benefit from a smile," said Nichols.
Creatures and Kids – sums it up this way;
 No. Therapeutic animals don't guide the blind or return a dropped object to someone in a wheelchair.  They don't perform at the circus.  Their gift is to guide a mind to learn, turn a frown into a smile, and perform a miracle right before your eyes.
Can you see yourself volunteering with Creatures and Kids, Inc?
PLEASE VISIT US ON THE WEB
405-627-2369
PetSmart, Inc. (NASDAQ: PETM) is the largest specialty pet retailer of services and solutions for the lifetime needs of pets. The company employs approximately 50,000 associates and operates more than 1,241 pet stores in the United States, Canada and Puerto Rico, over 194 in-store PetSmart® PetsHotel® dog and cat boarding facilities and is a leading online provider of pet supplies and pet care information (http://www.petsmart.com). PetSmart provides a broad range of competitively priced pet food and pet products; and offers dog training, pet grooming, pet boarding, PetSmart Doggie Day CampSM day care services and pet adoption services. Since 1994, PetSmart Charities, Inc., an independent 501(c)(3) non-profit animal welfare organization and the largest funder of animal welfare efforts in North America, has provided more than $165 million in grants and programs benefiting animal welfare organizations. Through its in-store pet adoption partnership with PetSmart Charities®, PetSmart has helped save the lives of nearly 5 million pets. Follow PetSmart on Twitter @PetSmart . Find PetSmart on Facebook www.facebook.com/PetSmart. See PetSmart on YouTube: www.YouTube.com/PetSmart.