Get Ready!  Get Certified!  Sign Up Now!
5 weeks of Animal Therapy Prep-Classes for potential therapy teams.
"A Good Dog ….is a trained dog."
Objective:  To help handlers and/or pets prepare for therapy animal certification.
Cost: $65 donation to mission of Creatures And Kids, Inc.
INCLUDES:
Group format. Re-enact therapeutic visits and role-play
Folder with educational materials supplied
1 lesson per week; each lesson is 1 hour long.  Total of five 1-hr lessons.
Classes are held on Sunday afternoons at 5:00 (Summer) and 4:30 (Spring, Fall and Winter)
To sign up for CGC/GCA/CKOC prep classes please call 478-8550 or e-mail us at  info@creaturesandkids.org
BENEFITS OF ATTENDING:
You and your animal have the opportunity to prepare for situations that frequently happen when visiting with a therapy animal.  Learn to use our curriculum and programs to enrich the experience of the children or adults you visit.
We encourage individuals that do not have an animal to attend, especially if you want to assist as a spotter for therapy team.
We offer some group animal opportunities.  So even if you don't have an animal, we have a group animal with which you can train or test until your animal is ready to pass the certification.
Evaluations!
Evaluations performed by qualified American Kennel Club (AKC) CGC, and GCA/CKI recognized evaluators.
Types of Certification include:
AKC Canine Good Citizen (CGC) certification
CKI Good Citizen Award (GCA) certification
Creatures and Kids Oklahoma Certification (CKOC)
You know how your pet makes you smile?  Creatures and Kids, Inc. (CKI) utilizes animals to enrich the lives of humans and other living things.
You and your special animal may be just the team needed to make a difference for Oklahoma's youth.  Through animals, children learn about self-control, respect, compassion, and how to aspire to make their dreams become a reality.
Learn about the healing of the heart and soul, and how minds are opened with help from the animal world.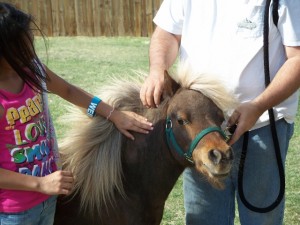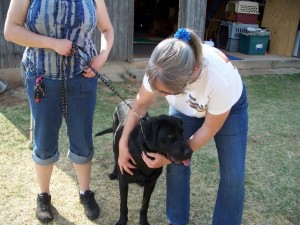 For the next evaluation dates please call 478-8550 or e-mail us at  info@creaturesandkids.org