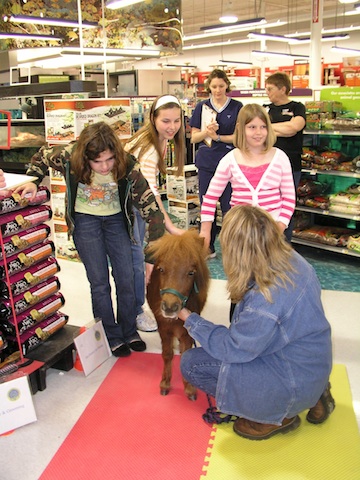 In addition to our work with local libraries, autism and schools, we have teams visiting other venues.
Often therapy animals are present for these programs.
Below are just a few venues that we visit.
Animal Certification – At least twice a year Creatures and Kids provides Therapy Animal certification.
Bite Prevention – This program is completed in a single session; it adapts well to many situations.
Hospitals – Many of our teams enjoy going to local hospitals and rehab centers.
Mentor a Child – A team commits to work with one child for an hour each week throughout the school year.
Miniature Horses as Therapy Animals – Learn how miniature horses can be therapy animals.
Nursing Homes – Often the elderly are eager to interact with the animals.
Safety Fairs – Creatures and Kids participates in various Safety Fairs throughout the year.
Community Events – Creatures and Kids participates in events, such as People Connected by Cancer, Septemberfest, Oklahoma City University's Children's Book Festival, etc.
Special Workshops – Creatures and Kids has partnered with other organizations to host information tables and offer workshops, such as S.A.N.E. – Solutions for Extreme Dog Behavior and Tellington TTouch™ Method of Miniature Horses.
Hospitals
We currently have teams in the following hospitals. We will contact other facilities if you have places you would like us to visit!
Integreis Health
Mercy Hospital
VA Hospital
Deaconess Hospital
Schools
We visits several schools across the metro area and work with children weekly as well. We present Bite Prevention to many classrooms and other locations.
Please contact us if you think we can help or you would like to help!