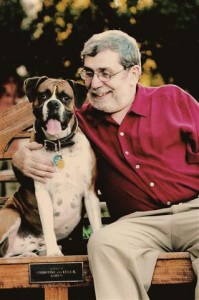 Dr. Mosca has been making a big impact in Oklahoma with his therapy animals.
First was "Boz" — a beautiful boxer from Tulsa Boxer Rescue. Sadly, Boz passed away in July, 2009.
Still grieving over the loss of his much-loved Boz, Dr. Mosca relented and welcomed a new Boxer named "Spike" into his home. Spike comes from Red Dirt Boxer Rescue. They quickly became fast friends.
Dr. Mosca immediately started Spike's training and together they passed their therapy team certification on November 7th. Spike goes to Dr Mosca's office each day and the team visits patients three days a week at Jim Thorpe Rehabilitation.